Access to d:matcha
※To d:matcha 
(1) Public transit + taxi option from Ishiyama Sta. (fastest, most convenient from Kyoto and Osaka) 
1. Navigate to Ishiyama Station  /  Keihan Ishiyama stationin Shiga prefecture
Cost (one-way): 240 JPY/ person

Travel time (one-way): ~60 min

Both the JR and Keihan lines stop at Ishiyama, so you can directly come from the center of Kyoto city, Kyoto station or Osaka

From Sanjo Keihan station: 25 min

From Kyoto station: 15 min

From Osaka station: 40 min
We recommend taking the

Tokaido-Sanyo line

given the frequency with which it runs (graphic below)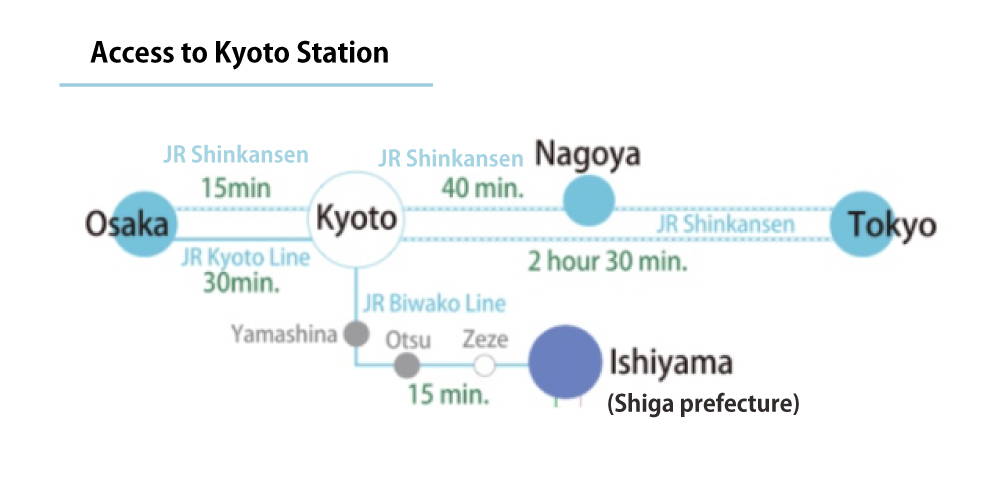 2. Taxi from Ishiyama Station to d:matcha
Cost (one-way): ≒ 9,000 JPY

Travel time (one-way): ~35 minutes

Please show the address below to the taxi driver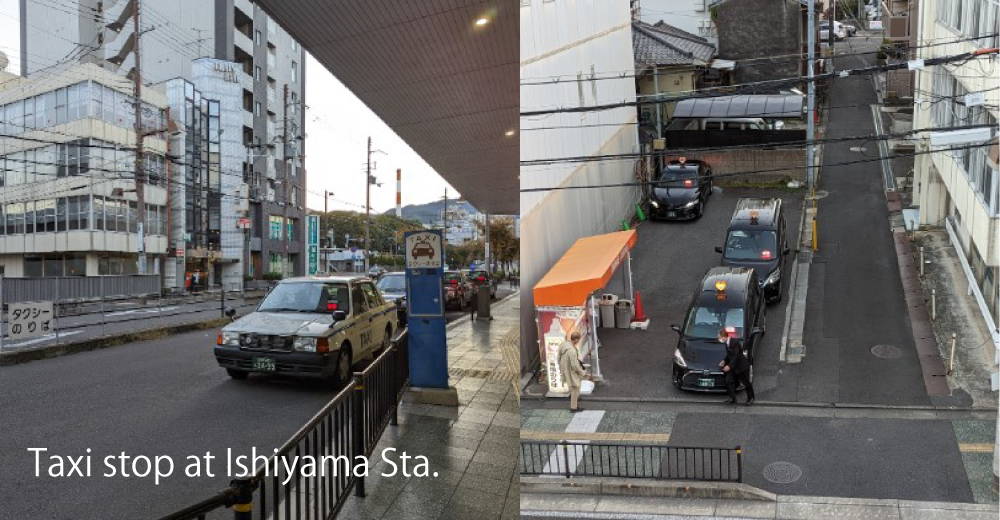 Taxi up to four people around 31,000JPY for six hours

Taxi up to nine people around 41,000JPY for six hours
(3) Drive / Car rental option
Renting a car is also a very convenient option to get to d:matcha. We have a free parking lot, so please feel free to visit by car.
We recommend Nippon Rent-A-Car to reserve a vehicle for your trip
(4) Public transit option from Kamo Sta. (most cost-effective, but most complicated)
Cost (one-way): ~1,500JPY/ person

Travel time (one-way): ~1hr 40 min
Navigate to Wazukashogakko bus stop in Yubune, Kyoto
The bus cource changed in April 2023, so you MUST TRANSIT at Wazukashogakko bus stop to "WazCar" (a community shared car). 
Upon arrival to

Kamo station

, exit the West Gate to get to the bus stop(Bus #65) . Please note that the bus only runs once per hour.

(weekdays)

9:05  Bus #65 leaves Kamo station 

9:25 Transit to Waz car 
9:33 Arrive at d:matcha 

(weekends) 

9:11 Bus #65 leaves Kamo station 
9:31 Transit to Wazcar 
9:40 Arrive at d:matcha  

If the bus schedule does not suit your timing, we recommend taking a taxi from

Kizu Station

, as this station often has more readily available taxis (costs ≒ 7,000JPY) 

Transit the bus to "WazCar" (a community shared car) at Wazukashogakko bus stop. You can ask driver "Please go to d:matcha". To smooth transfer, WazCar requests the reservation, so please contact "info@dmatcha.com" in advance. 

Cost (WazCar) : 200JPY, need to be paid in d:matcha
※From d:matcha 
(1) Community share car(WazCar) + Bus 65  
Once we finish the tour, you can ride a share car at 1:30pm from d:matcha to Wazuka Shogakko Bus stop  You can take the bus at 2:11pm and arrive at JR Kamo station at 2:33pm. 

Cost (Bus fare):  510JPY 

Cost (WazCar) : 200JPY, need to be paid in d:matcha in advance
(2) Taxi option 
It takes around 40 minutes to call a taxi. Please let us know in advance to take a taxi smoothly after the tour. 
---
Located in Nara, one of Japan's most famous and historically significant temples' ~40 min by bus/train from d:matcha

Features deer and until recently held the record as the world's largest wooden buildings.  

Shigaraki is one of the most famous pottery places in Japan. As one of Japan's Six Ancient Kilns, it is one of the oldest pottery-producing sites in Japan. It is very close from d:matcha Kyoto and takes around 20 minutes by car. (There is no public transportation to visit Shigaraki.)
The Miho Museum exhibits Mihoko Koyama's private collection of antiques that come from both Asian and Western ancient civilisations. It takes 25 minutes by car to Miho museum.